Top Shelf Elite – New Breeder – New Promo at Gorilla Seeds - Auto Black Valium
Posted on 11 October 2019 by 1

This month BIG G has added some top Beans from Top Shelf Elite Genetics.
Top Shelf Elite Seeds listed are excited about their latest Auto Black Valium genetics , read more below:
We all love Critical Mass Collective, and Top Shelf Elite picks up where they left off! This new division enters new territory with highly coveted breeding stock like Gorilla Glue #4, Green Crack and a full line of San Francisco Cookie strains.
Auto Black Valium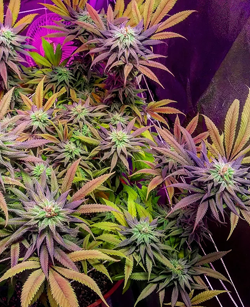 If you're looking for the elusive autoflowering seed that's capable of delivering genuine couchlock, this is a must try! Auto Black Valium quickly says it's lights out with heavy sedation, thick aromas and plenty of terpene-filled resin. This is a true heavy weight!
This is one of Top Shelf Elite's latest offerings, they were very proud to give us these seeds and we expect nothing but the very best from them.
Please remember germination of cannabis seeds is still illegal in the UK. Information contained here is for information purposes only, please do not break the law. Do NOT grow these cannabis seeds.
How to Enter!
We are giving away prizes of 10 x Top Shelf Elite Genetics Auto Black Valium or 10 X Critical Mass Auto Monster Mass Feminised Seeds on each of the following platforms. Enter on any or all to increase your chances of winning !
Facebook: Simply comment on This Post
RollItUp: Simply comment on This Post.
OverGrow: Simply comment on This Post.
Percys Growroom: Simply comment on This Post
BLOG:
 To enter via the blog post; simply comment below.
Good Luck all, winners will be announced on the 20th of October.
If you need a discount on some fine cannabis beans then use the code GORILLA15 on the checkout page to receive a whopping 15% off your next order, hurry as this code is only valid until the 16th October!
*Cannabis Seeds are sold and given for collection purposes only - please do not germinate them.
*Prizes sent to them via recorded delivery.  If you win the competition and don't receive your prize, we cannot resend competition prizes, so you'll have to raise this with your local delivery service (In the UK, for example, this would be Royal Mail).
PEACE,
BIG G
#GORILLASEEDS
Hey Congratulations to the Winners
Thank you for everyone for taking part and making these comps awesome!
Facebook:  Patrick Chalifoux 
Rolltup : jungle666
OverGrow : DaFozz
Percys GrowRoom Zombie Nation
Blog Dave mcleod
Winners please email [email protected] stating the platform you won on
Share and Enjoy
This entry was posted in Cannabis Blog . Bookmark the permalink.
Comments
---
Add a comment