What to expect when you place an order with Gorilla Seeds
Many customers and website viewers may be confused about exactly what to expect from Gorilla Seeds after creating an order. In this article, we explain exactly what you receive from the point of creating a website order right through to the physical products you will receive from our warehouse. If anything is not covered here or you have further questions, then please email Andy directly using the contact form!
Outstanding Customer Services a communication at every point of the order process
Digital Products you will receive:
Order confirmation email - An order confirmation email will be emailed after creating an order, this will include detailed information regarding the products you ordered and include your contact details which were submitted when you created the order such as your mailing address and contact phone number. If you do not receive an email within 10 minutes of creating an order then please contact us using the contact form and quote your order number, one of our agents will contact you shortly to see what the problem is. Please ensure you check your spam mail beforehand.
Order payment information - We will email you instructions on how to pay for your order, this will be a secure link to pay by card or bank transfer details. We prefer to send this information separately since this is the most secure method.
Text message to follow up on payment  (Sometimes)  - We will text you in a few hours if we have noticed no payment received.
Upgrade Offer Email (Sometimes) - We will sometimes send you an upgrade offer by email. We will offer a more expensive cannabis gift pack for no additional cost from a selection of our bestselling souvenir cannabis seeds.
Dispatch email with tracking number - When we pack your order we will send an email including the tracking reference and a website where you can trace your order. Please allow 24 working hours before you track your order, this is because although your order may be packed there is a small delay between packing and it being processed at a Royal Mail post office. Your order will be dispatched using Royal Mail Recorded Delivery Service.
The Order you will receive:
When you receive your order it will arrive in a plain Metallic Blue Postal Bag with your name & address and a return address label for our PO box on the rear.  A packing slip detailing the enclosed items will be folded and placed inside. The Collector Seeds you ordered will be enclosed and will include their authentic official breeder gift packaging.
About Collector Genetic Preservation Souvenir Seeds
All the cannabis seeds sold on this website are sold as collectible genetic preservation souvenirs. All our collector seeds are gift-wrapped authentic articles. Cannabis Seeds will be packaged according to the breeder you selected. Every gift package is unique and different. Gift Packaging can be different sizes and shapes and sometimes includes a seal foiled blister pack. 
All Cannabis Seeds Packets will include the breeder name, strain variety and additional information. The packaging will also include terms and conditions and legal information.
Here are some examples of some of the cannabis seeds packets we sell.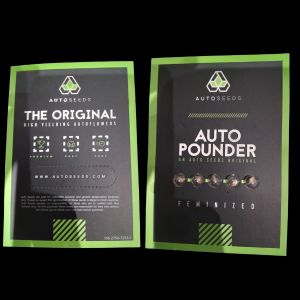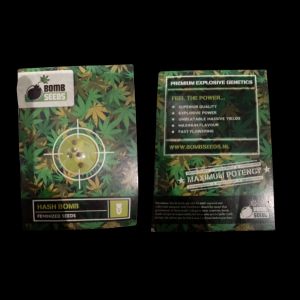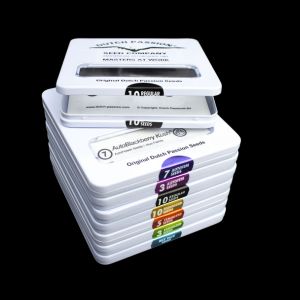 What you 100% don't get from Gorilla seeds
Detailed Cannabis Growing Advice - as a law-abiding company we sell cannabis seeds as legal genetic collection preservation souvenirs only, we under no circumstances encourage the growing of cannabis and do not give out growing advice or recommendations in any shape or form.
Rolling Papers and paraphernalia.  - we do not give away or sell any smoking-related items which could be used to consume illegal substances. Our seeds are sold for legal purposes only and we do not encourage anyone to break the law.
Non-Gift wrapped seeds - All our cannabis seeds are genuine souvenir articles and are packaged and marketed in such fashion. To put it bluntly, we do NOT sell cannabis seeds in baggies with no souvenir value! All our cannabis seeds are collectible genetic preservation souvenirs, both the packaging and the price reflect this.
After-Care Service - As we sell seeds as collectible souvenirs we do not engage in after-sales service care. Products are sold as collectible souvenirs and are not intended to be sold for growing purposes. If your products arrived damaged in the post we do have a return and replacement policy, please note that the package must be unopened for us to replace any damaged on arrival gift seeds.